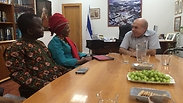 African religious leaders visit Israel
Delegation of African religious leaders in Jerusalem: 'Africa returning to Israel'
As part of the strengthening of relations between Africa and the Jewish state, religious leaders from all over the continent went to Jerusalem to meet with Israeli government officials to discuss increased cooperation across religious lines.
A delegation of African Christian leaders visiting Israel granted an award to Jewish Agency Chairman Natan Sharansky and echoed Prime Minister Benjamin Netanyahu's call for Israel and Africa to return to each other.
"As Prime Minister Netanyahu said recently, Israel is returning to Africa and Africa is returning to Israel," said South African pastor Linda Gobodo. The pastor is the founder of the Vuka Africa Foundation, which aims to spread a message of hope, healing, and restoration to the rest of the continent.
Nigerian Pastor Olusegun Olanipekun, founder of the Institute for Christian Leadership Development, which aims to improve African society through Biblical principles, stressed that Africa's future must be interlocked with the future of Israel.
"We believe that Africa's future depends on our connection to Israel," he said. "We have a great deal to learn from the Israeli people and we believe that we have a great deal to offer in return."
President Reuven Rivlin also emphasized that Israel is in a position to offer Africa support and guidance while speaking at a meeting on Monday with visiting President of the Economic Community of West African States (ECOWAS) Marcel Alain De Souza.
"We have excellent cooperation and we welcome the opportunity for Israel to contribute from its knowledge and abilities in the fields of health, water, and agriculture—a sign of the friendship between us," Rivlin told De Souza.
The newly restored Israeli-African friendship will also be on display next year as the third annual Africa Leadership Summit will be held in the Israeli capital of Jerusalem.
"We look forward to returning to Israel with dozens of leaders from across Africa for the third Africa Leadership Summit in Jerusalem in 2017," added Pastor Olanipekun.
Pastor Gobodo also delivered a message of solidarity with Israel. "We want you to know that there are millions of people in Africa who love, support, and pray for Israel."
"We organized the largest rally in the world to support Israel during the summer conflict with Hamas in 2014," she continued. "It was the largest pro-Israel rally ever to take place in Africa."
Pastor Gobodo was referring to the rally held on August 3, 2014 in Johannesburg, South Africa where approximately 12,000 people demonstrated in support of Israel against Hamas during Operation Protective Edge. Many of the rally's participants were Christians from South Africa.
Sharansky expressed sincere gratitude to the delegation for the award and for their visit to Israel's capital.
"It is deeply moving that you, as spiritual leaders in Africa, have come to Jerusalem with an offering of peace," Sharansky told the delegation.