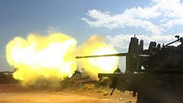 טנק של אנשי ג'בהת א נוסרה סוריה שלוחת אל קאעידה
A Nusra Front tank in action (Photo: AP)
A farewell to arms
The Syrian Nusra Front amicably severs ties with al-Qaida as it prepares to continue its fight against President Bashar Assad's regime; Nusra Front leaders have been debating whether to leave the terrorist organization for some time, hoping the step would undermine any attempt made by the US and Russia to explain striking groups supposedly linked to al-Qaida.
The leader of Syria's Nusra Front says the group is changing its name, and that it will no longer have ties with the terrorist group al-Qaida.

In a video aired on the Syrian opposition station Orient TV and Al-Jazeera Thursday, Mohammed al-Golani said the group's separation from the terrorist network aimed to remove "pretexts" by the US and Russia that excused them striking rebel groups while saying they are targeting Nusra.

Nusra has been al-Qaida's regional branch and one of the most powerful armed groups fighting the Syrian government.

Al-Golani said his group will be renamed the Levant Conquest Front and will "have no relation to outside groups." The video was the Syrian militant's first appearance showing his face.

Al-Qaida's deputy leader Ahmed Hassan Abu el-Kheir gave what appeared to be an endorsement of the split, saying in a newly released message that the Nusra Front should do whatever it takes to preserve the jihadi movement in war-torn Syria. "We will be the first to support it," Abu el-Kheir said in his six-minute recording.

Abu el-Kheir's message also included a brief comment from his superior, al-Qaida Chief, who said, "The brotherhood of Islam is stronger than any organizational links that change and go away." It was not clear when al-Zawahri's comments were recorded.

Even if the group does announce a formal split, however, its militant ideology is unlikely to change. The US has stated it considers Nusra to be al-Qaida in its "fundamental nature."

Nusra's disassociation from al-Qaida may be a means that would allow him to pave the way to cooperation with countries in the Persian Gulf that would aid in its fight against Assad.

Aymenn Jawad Al-Tamimi, a researcher at a US institute specializing in Middle East affairs, said that if the Nusra Front were indeed to detach itself from al-Qaida and set up a coalition among the different rebel factions in Syria, the US would view this as severely detrimental to its interests, since it would bring about a quick dismantling of any backing the rebel forces currently receive from the US.

The Nusra Front was established in 2011, shortly after the rebellion against Syrian President Bashar Assad broke out. It originally received the support of ISIS, but eventually Nusra disassociated itself from the terrorist organization. Since then, the two have been engaged in a battle over various territories in Syria, as Nusra focuses on the war at home and ISIS spreads its deadly influence and propaganda across the globe.

Both Nusra and ISIS wish to impose Sharia law over territories under their control. They differ, however, in their approach to other minorities, as ISIS' modus operandi is to torture and brutally murder those who oppose them, while Nusra has been known to show a certain tolerance toward others.