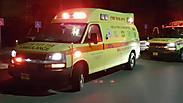 Ambulances at the scene of the fight
Photo: MDA
Two people were killed and 16 others injured in a mass altercation that broke out between two families in the Bedouin town of Kuseife in southern Israel overnight Saturday.

An initial police investigation found that the members of one of the families ran over members of the other family. Some of the participants in the violent fight also fired into the air.

The two killed men were aged 50 and 30. Another was seriously injured and hospitalized at the ICU. Three were moderately hurt and the rest were in light condition. The injured were taken to the Soroka Medical Center in Be'er Sheva.

The violent confrontation began on Saturday night after youth from outside of Kuseife drove wildly inside the town. Witnesses said the passengers in the vehicle shot bursts of gunfire into the air.

As a result, the members of the local family crowded out on the road. Shortly thereafter, a private vehicle ran over members of that family.

"Someone came and simply ran them over," an eye witness told Ynet.

The fight ended when the town's leaders and police forces intervened.

Magen David Adom reported none of the injuries were the result of the gunfire—all were hurt as a result of being hit by the vehicle.