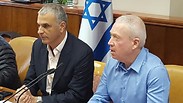 From the left: Moshe Kahlon and Yoav Gallant
Treasury Ministry
The government approved several changes to the ministerial line-up on Sunday, among them the appointment of Jerusalem Affairs and Heritage Minister Ze'ev Elkin (Likud) as the environmental protection minister as well.
MK Yaron Mazuz, who so far served as a deputy minister in the Prime Minister's Office, will be relieved of that position in favor of becoming the deputy environmental protection minister.
Anther one of the approved changes involves the Economy Ministry, which will be emptied of any authorities relating to work and employment that would in turn be transferred to Welfare Minister Haim Katz (Likud). Katz will also be taking over all matters relating to Holocaust survivors.
The then-depleted Economy Ministry will be handed over to Finance Minister Moshe Kahlon (Kulanu).
Kahlon had originally intended to transfer Minister Yoav Gallant (also from Kulanu) from the Construction and Housing Ministry to the Economy Ministry, but due to Gallant's refusal the plan was shelved.
The failed attempt to remove Gallant from the Construction and Housing Ministry was reportedly due to disagreements between the two over how to best approach Israel's current housing crisis.
Prime Minister Benjamin Netanyahu still holds the communications, regional cooperations and foreign affairs portfolios.