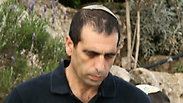 Brig. Gen. Ofek Buchris, who stands accused of a series of secual assualt allegations including rape, was released on Sunday from the IDF after requesting that he be discharged b Chief of Staff Gadi Eisenkot.

According to the IDF spokesperson's unit, "Brig. Gen. Buchris asked Chief of Staff Gadi Eisenkot to be immediately discharged from the IDF so that he may stand trial as a civilian, and not an active-duty IDF officer."

Eisenkot accepted his request and Buchris officially concluded his service in the military the same evening.

Buchris released a statement on Sunday evening: "Today I conclude 28 years in which I loyally served my people and my home. I am grateful for the tremendous privilege which has been granted upon me, for the meaningful and challenging service, and for the opportunity to meet with people in every layer in Israeli society," he said.

"I am grateful to my many subordinates, who followed my leadership in the battlefields, in training fields and on the borders. I enjoyed your company very much. You demonstrated real camaraderie on the battlefield. Your friendship is real."

"I am grateful to my commanders for their faith and cooperation in the complicated workings of the military. During my service as a commander, 24 fighters fell and did not return to their homes. I will always cherish them in my heart and as far as I am concerned, I will always remain their commander. At this time, I wish to send a warm hug and my love to their families and I wish them good mental health and good physical health to the wounded," Buchris continued.

"I am grateful to the system which answered my request and enabled me to implement this appropriate norm. I turn to the fight of my life. I am innocent and I will fight for my good name and innocence."

"Despite the disruption of my life's path...I am happy with my part, proud of my military service and I hope that I will return to contribute to my country after my acquittal.

Buchris is accused of raping three soldiers who were under his command and is accused of sodomizing one of them several times. The high ranking officer, who was supposed to become the head of the Operations Division, was also accused of indecent acts against a female major under his command. There are 17 pages of indictments against Buchris, two of which deal with him committing sexual offenses between 2010 and 2013.

The acts allegedly occurred at his country home, in his offices on base, in his bureau, and even in his military provided car. One instance occurred in the house of one of the victims.

After the publication of the Military Advocate General's decision on the filing of indictments, Buchris maintained his innocence, claming that "it never happened," when confronted outside of his house.