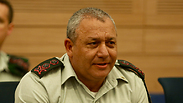 Lt. Gen. Eisenkot.
Photo: Gil Yohanan
IDF chief goes to US ahead of finalization of aid package deal
Lt. Gen. Gadi Eisenkot landed in the United Stated on Sunday in an effort to bridge the few remaining gaps with the American government on the signing of a new military aid package. One of his stops will be a visit to the first operational F-35 squadron.
IDF Chief of Staff Lieutenant General Gadi Eisenkot landed in the United States on Sunday for a four-day visit, as the guest of Chairman of the Joint Chiefs of Staff, US Marine Corps General Joseph Dunford.

Lt. Gen Eisenkot will meet with security personnel in Utah, Florida, and Washington during his visit. They will discuss joint security challenges, Middle East security, and military cooperation.

One of Eisenkot's main topics of discussion with his American counterparts will be the American military aid package to Israel. It now seems that the two sides are close to bridging the gaps on the deal, which may be agreed upon as early as this week. Defense Minister Avigdor Lieberman has stated on multiple occasions that the multy-year deal will be signed before Rosh Hashanah (the Jewish new year), which this year will take place on October 2.

The aid deal is a document that is signed once every decade. As party of the latest deal, Israel received some $3.1 billion a year in military aid money. This time however, Israel increased its request to approximately $5 billion in annual aid money.

One of the main disagreements the two sides have relates to several conditions considered unacceptable to Israel. One of these is the demand the Israel not be allowed to use the money to make purchases in Israel. Such a demand could hypothetically bring about the dismissal of thousands of workers in the Israeli security industry, since such an agreement would seriously hinder Israel's security industry's profit capacity. Currently, Israel is allowed to use up to 26.3 percent of aid funds to make purchases from Israeli firms.

A second demand by the US is that Israel refrain from using the aid money for fuel purchases in an effort to maximize Israeli purchases of US military industry products. This would compel Israel to search its coffers for an additional NIS 400 million for its defense budget for fuel purchases which would have an adverse effect on other sectors.