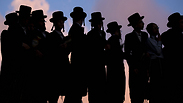 The Knesset approved overnight Monday the cancellation the requirement to teach core subjects at ultra-Orthodox (Haredi) educational institutions.

The proposal, which passed the second and third readings in the Knesset in a 41:28 vote, means that Haredi institutions will now be eligible for government funding without being required to teach their pupils basic subjects such as math, science, and English.

The amendment, promoted despite objections from Education Minister Naftali Bennett, effectively annuls a planned reform led by Yesh Atid in the previous government, which was due to come into effect during 2017.

The cancellation of the reform was one of the main conditions set by the ultra-Orthodox party United Torah Judaism in its coalition agreement with the ruling Likud party.

"The members of Knesset voted against the children of Israel," said MK Ksenia Svetlova (Zionist Union) on Tuesday morning. "Against them studying, heavens forbid, English, math and science. This is a sad day for the State of Israel, in which the coalition decided to act based on the false principle that 'ignorance is power.'"

The budgeting of educational institutions that don't teach core subjects will now be done based on criteria set by the education minister.

There are currently 430,000 students learning in ultra-Orthodox institutions, 30,000 of them in institutions that are no longer required to teach core subjects.