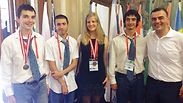 The Israeli Chemistry Olympiad team.
Israeli high school students won a silver and a bronze medal at the annual International Chemistry Olympiad which took place in the Georgian capital Tbilisi. 264 students from 66 different countries competed in the 2016 olympiad which took place in late July and early August.

Competitors participated in two exams – one theoretical and one practical – each five hours long. They were instructed to synthesize a certain material, monitor a chemical reaction, and identify unknown materials based on chemical reactions.

"I'm glad I managed to win the silver medal. The declaration ceremony was very tense, I expected to win a medal, I was hoping for silver or gold. There were things I could have done better, but I think I did well," said silver medal winner Ron Solan.

Rina Svotianov, who won the bronze medal for the Israeli team, said, "Winning a bronze medal is nice, but I personally expected a silver or gold medal. I was a little disappointed but I know it's a good achievement."

Minister of Education Naftali Bennet said of the Israeli students' achievements, "The students of Israel bring the state of Israel pride and honor in international science competitions again and again. Succeeding and making achievements in something that is also a student's hobby is the formula for success."