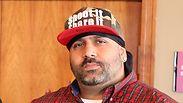 Eliasi. Known also as The Shadow.
Photo: Amit Shabi
Controversial rapper Yoav Eliasi, nicknamed The Shadow ("Hatzel" in Hebrew), has signed up to become a member of the Likud party.

MK Oren Hazan was behind the move, encouraging Eliasi to sign the registration form.

"We're bringing a great force to the Likud today," the MK, who's known some controversy as well, said with satisfaction. "We haven't known each other for long, but I feel that Yoav is like a brother to me, and that's why I call him Yoav and not The Shadow. There are many ways in which we are similar. We both look at this Knesset and tire of the political correctness that has taken over. The public is tired of the cowardly, obsequious leftist talk. It's not for nothing that Yoav has a quarter of a million people following him on social media. We are both innocent of political correctness."

Eliasi was quick to return Hazan's compliments, saying, "You give speeches here (in the Knesset), and with every word you say, I feel like throwing dollars at you. The Likud is always breaking to the left, sometimes I feel like vomiting on some of the people. It's time to make a change in the Likud."

When asked if there's a chance he'll run for a Knesset seat as a party representative, Eliasi answered, "Right now I'm not there, but you never know what will happen down the road."

Hazan quickly responded, "I'm not afraid to consider him someone who's worth maybe even five (Knesset seats) for the party. There are many Knesset Members whom I'd replace with Yoav today."

Hazan and Eliasi now plan on recruiting the rapper's close supporters, nicknamed "The Shadow's Lions," to establish what they call the "Likud Guard."