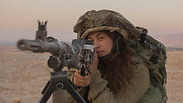 Female combat soldier in Lions of Judah
Photo: IDF Spokesperson
Since the IDF opened up combat roles to women, the number of female combat soldiers has been steadily increasing. The number rose from 435 female combat soldiers in 2005 to 547 by 2012. The women were only in one battalion: Caracal.

However, 2013 saw an explosion in women combat volunteers with 898 joining combat units. With the opening of another mixed-gender battalion—Lions of Jordan—the number jumped to 1,365 women in combat roles. Finally, 2015 saw the opening of the third mixed-gender battalion—Bardelas—and the number increased to 2,047 female combat soldiers, a number which is expected to increase all the way to 2,100 women in combat roles.

This constitutes a 400 percent increase in female fighters in a single decade. As if that weren't enough, the IDF is planning on opening up a fourth mixed gender battalion in the near future.

Eventually, the IDF plans on these battalions being the first lines of defense on the borders of Israel.

The reason for this drastic increase in female combat soldiers is due to the elimination of the strenuous selection process before the draft day in exchange for a personal interview, followed by a two-week trial period for the women to see if they are the right fit for the job.

Another reason is because the conditions for the fighters have improved across the board, from officer's benefits to living quarters.

A host of new positions are available to female soldiers this draft cycle as well, positions which require women to serve the same 32-month service as men. This includes intelligence analysts, operational intelligence analysists, special operations lookouts, various cyber positions, and positions in the Lotar anti-terror unit.