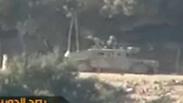 A stillshot from the kidnapping
GPO investigating Italian who tricked Israeli officials into Hezbollah interview
Following Hezbollah's expose of how they carried out the 2006 kidnapping of two Israeli soldiers, the Government Press Office is investigating an Italian reporter suspected of colluding with the terror organization to trick Israeli politicians and soldiers into speaking about the incident for Hezbollah propaganda purposes.
The Government Press Office is taking steps against the Italian ANSA news agency and against journalist Michele Monni for allegedly working for Hezbollah. Monni interviewed a slew of Israeli government officials for what turned out to be a Hezbollah special detailing how the terror group kidnapped and killed two Israeli soldiers, thus starting the Second Lebanon War.

Monni managed to interview the Former Head of Military Intelligence Amos Yadlin, Former Defense Minister Amir Peretz, MK Tzipi Livni, and MK Eyal Ben-Reuven, seemingly at the behest of the Lebanese terror group.

Further adding salt to the wound, Monni even allegedly offered Tomer Weinburg - one of the survivors of the attack and who currently suffers from PTSD - $2,000 to be filmed in front of Hezbollah footage of the attack taking place following an interview with him.

Monni, who typically works as a freelance writer, was able to trick people into interviews by claiming that the interviews would be broadcasted in Italy.

"This is a severe situation which borders on fraud and misrepresentation, and which goes against professional journalistic standards," said Nitzan Chen, Head of the Government Press Office.

"The GPO will take lessons learned from this case," he continued, "including taking steps against the Italian news agency if it turns out that one of their representatives – be they a producer or journalist – were involved in this incident which is being investigated."

After the interviews were aired by Hezbollah, the head of the GPO called the head of the Italian news agency to demand an explanation.

The head of the ANSA offices in Israel, Mossimo Lomokano said that "ANSA never gave freelance journalist Michele Monni any assignment to interview any of the people interviewed for the piece on the events from 2006. Monni never told ANSA that he was doing these interviews. Moreover, ANSA has never published any interviews conducted by Monni regarding those events."

Walid al-Omri, the head of the Al Jazeera offices in Israel and the West Bank also claims that his network never requested the interviews, despite Monni's claims that he was specifically requested to do the interviews by the Qatari network.