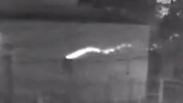 Fireworks at police in Ma'ale ha-Zeitim
While there has been a decline in the number of incidents, police still have to deal with serious violence in East Jerusalem, as can be seen in security cameras footage of policemen in Ma'ale ha-Zeitim being attacked with fireworks launched directly at them from Ras al-Amud.

The police responded to the shooting of the fireworks from the Arab neighborhood with crowd dispersal measures.

Police are operating in Ras al-Amud and other areas of East Jerusalem to stop the fireworks shooting by making arrests, finding and seizing firework stocks and targeting the merchants selling the fireworks to the perpetrators.

The residents of Ma'ale ha-Zeitim neighborhood, whose homes are adjacent to Ras al-Amud, have been suffering from barrages of stones and Molotov cocktails for years.

The footage was captured by cameras installed by the residents dubbed "Anti-Terror TV," meant to help bring to light the violent attacks on the neighborhood.

"There has been a significant drop in the number of attacks compared to last year, but there are still stone-throwing and attacks on the residents," said Joshua Wander, a member of the Ma'ale ha-Zeitim security committee.