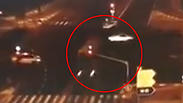 Following a car crash which claimed the lives of three members of the same family overnight Tuesday, including a two-year-old-girl, after a truck failed to stop at a red light in Zichron Yaacov, once again questions surface about the safety of Israel's roads.

A general indifference to safety with which Israeli road culture has become commonly associated, is something of which activists for promoting safer roads in Israel are aware.

According to the Israeli Central Bureau of Statistics there were 458 accidents per 100,000 vehicles in Israel in 2013. By contrast, in Switzerland, for example, there were only 298 crashes per 100,000 vehicles

Truck smashes into vehicle, killing three

Oz Dror, spokesperson for Or Yarok (Green Light), an NGO which seeks to minimize accident casualties and to improve the driving standards in Israel, believes that thorough education is severely lacking, particularly among new drivers, with many children not receiving driving education in school or from a young enough age.

Indeed, an average of 36 children die each year in driving lessons alone, according to Dror, while almost 400 young drivers die annually on the road.

According to Chairman of the Knesset Caucus for the War Against Road Accidents MK Hamad Amar (Yisrael Beytenu), the disproportionately high number of crashes in Israel can partially be attributed to reckless driving.

"The problem is also a cultural and educational one. To create a culture you must enforce it. This will encourage people not to drive the way they do. If drivers knows that there are policemen on the roads waiting to catch them, they will drive differently because they want to keep their licenses," Amar told Tazpit Press Service (TPS).

However, both Dror and Amar said that high fatality rates on Israel's roads are also caused by a number of other factors.

According to Amar, the government allocated two billion shekels to address the problem over the last few years, but not all the money has flowed to its designated area. For example, he said that only 156 million shekels was spent in 2014 instead of the full 400 million shekels made available.

In addition to the insufficient education, another factor, Amar pointed out, is a lack of law enforcement on the roads:

"We have seen cutbacks to traffic police of more than 40% over the last two or three years in Israel. There used to be close to 650 traffic policemen whereas today there are only about 400 and maybe even less," he said.

Dror concurred that the paucity of traffic policemen accounts for road accidents but differed on the precise numbers. The country requires 450 traffic police vehicles to monitor drivers, argued Dror, but currently has only 100.

Similarly, Dror argued that Israel needs better enforcement of the laws and approximately 300 speed cameras instead of a mere 30 which he said existed today.

Amar added that one of the main causes of fatal crashes is the lack of shoulders on the highways—areas known as 'red roads.' Indeed, notwithstanding the bus driver's negligence, it was this factor which partially caused a horrific crash that killed 6 and injured 10 at the beginning of the year.

"There are no shoulders on the roads on which to stop. Even the new plans for road construction in Israel don't involve shoulders. That means that if you ever have to stop because you are tired or if you have a malfunction or something, then you have to drive for many kilometers before you find a shoulder or else you have to stop on the road. Your life is in danger either way," said Amar.

"More than 90% of fatalities happen in the danger zones. If we address them, we can potentially save around 90 people, but it depends on us. A car crash is not a matter of fate. It can be avoided," he concluded.

TPS also contributed to this report.