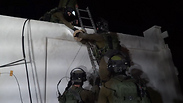 Troops demolishing one of the houses
Photo: IDF Spokesman
IDF and Border Police forces along with the Israel Civil Administration demolished overnight Wednesday the homes of the terrorists behind the deadly attack at the Sarona Market in Tel Aviv in June that claimed the lives of four Israelis.

The forces demolished the home of Mohammad Mahmara in Khirbet Raqa' in the Hebron area and of his cousin, Khaled Mahmara, in Yatta.

While in the past, the demolition of a terrorist's home was delayed by judicial proceedings, this time it was carried out less than two months after the attack.

IDF troops demolishing the homes fo the terrorists

The troops, from the Nahal Brigafe's 50th Battalion, the Judea and Samaria Division's engineering company and from the Egoz and Yahalom units, did not meet with any resistance or rioting. They used bulldozers and explosives in the demolitions.

The two terrorists were indicted a month ago, when it was revealed that a third terrorist was supposed to participate in the attack, which originally consisted of an elaborate scheme according to which the three planned to open fire inside a train and cause mass murder. The three stand accused of murder and other crimes.

The Shin Bet investigation also revealed that the 21-year-old terrorists were inspired by Islamic State to commit the attack, which claimed the lives of Ido Ben-Ari, 42, from Ramat Gan; Ilana Nave, 39, from Tel Aviv; Dr. Michael Feige, 58 from Midreshet Ben-Gurion; and Mila Mishayev, 32, from Rishon LeZion.

According to the indictment, the two turned to their friend, Ayash Musa Zayn, also a resident of Yatta, with the intent of carrying out the attack. They planned to carry it out on a train and therefore went about gathering information about timetables, journey routes, entrances and exits, gateways and numbers of passengers passing through different stations. They came to the decision to carry out the attack against passengers travelling from Tel Aviv to Haifa.

As part of the attack, the two purchased 30cm knives. They also purchased suits, watches, leather bags, shoes and glasses at the cost of NIS 2,600. Additionally, they bought rat poison to put on the knives which would then be used to stab Israelis and maximize the damage caused. In total, the two spent NIS 4,000 on their plan.

However, for the two prevented Zayn from participating in the attack as he had financial debt, a fact which according to Islamic doctrine precludes the possibility of an individual becoming a Sahid (martyr).

They went to shooting practice to make sure that their weapons worked and hid them with Zayn along with the ammunition, the knives the poison and the other materials purchased for the attack. The decision to attack Sarona was unplanned and taken the same day as the attack.