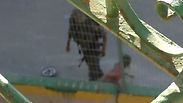 The policeman and the girl
Photo: B'Tselem
Border Policemen questioned under caution, say tried to protect girl
Police Investigation Unit questions the two soldiers documented taking a bicycle from an 8-year-old Palestinian girl in Hebron; their lawyers say they were trying to stop the girl from entering the Jewish Quarter and endangering herself, but could not communicate that to her.
The two Border Policemen documented taking a bicycle from an 8-year-old Palestinian girl in Hebron were questioned under cautious at the Police Investigation Unit on Tuesday on suspicion of abuse of power.

The soldiers' lawyers said that "What looks in the video as cruelty towards a helpless girl was actually an act to protect the girl who sought to cross the road into the city's Jewish Quarter. The policemen, who realized that she was taking a risk and could not communicate with her in her language, took her bike from her and in that prevented the danger."

The lawyers went on to say that "When it became clear to (the Border Policemen) that the girl understood the risk in riding straight into the Jewish Quarter, they allowed her to come back and retrieve the bicycle."

Video of the incident by B'Tselem (צילום: בצלם)

"The main lesson to learn from this is that judging an incident purely based on a video without even the least bit of interest in the officers' version is a vicious and ugly thing," they added.

Anwar Burqan, an eight year old Palestinian girl, lives in a-Salaimeh neighborhood in Hebron, near the Cave of the Patriarchs.

On Monday of last week, she was playing with her siblings on a road not far from her home that is meant for the exclusive use of Jews and that Palestinians are barred from entering.

The Border Policeman is seen in the video running towards the girl, an act that scared her, leading her to get off her bike. He is heard asking her "What are you doing here?" causing the girl to burst out in tears.

The Border Policeman is seen stepping over the bicycle, preventing the girl from taking it. When another Border Policeman arrives, the girl is seen running away in tears, leaving her bicycle behind.

One of the Border Policemen is then seen picking up the bike and throwing it into nearby bushes.

The Border Police said in response that it "views the incident gravely and regrets it. At the end of an initial investigation, the Border Police commander instructed to immediately suspend the soldier from operational duty," adding that the Police Investigation Unit that will take over the investigation of the incident.