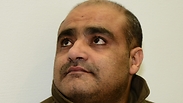 Photo: Herzl Yosef
Photo: Herzl Yosef
Senior employee of international aid group diverted humanitarian funds to Hamas militants
A senior official at World Vision, a Christian aid organization, diverted millions of dollars intended for Gaza's population to Hamas military wing; also stole food and health packages: Shin Bet: 'There is no limit to the cynicism of Hamas'
Tens of millions of dollars in aid money to the Gaza Strip from the US and Europe were illegally funneled to Hamas to fund tunnels, rockets and military posts, according to an indictment filed on Thursday.
On June 15, the Shin Bet arrested Mohammad El Halabi, a regional operations manager at the international NGO World Vision on suspicion that he served for six years as an agent of Hamas's military wing, the Izz ad-Din al-Qassam Brigades, within the aid organization.
According to the indictment, the 38-year-old Halabi, a resident of Jabalia in the Gaza Strip, has been a Hamas member since 1995 and was recruited to its military wing in 2004.
He was tasked with infiltrating World Vision, a US-based Christian aid group, and covertly funnel some $7.2 million a year in aid money meant for the civilian population in the Gaza Strip to the al-Qassam Brigades.
Halabi was arrested at the Erez border crossing while trying to return to the Strip.
World Vision is an international aid organization working with children and economically disadvantaged families in the Gaza Strip, the West Bank and East Jerusalem, among other places.
Rana Qumsiyeh, World Vision's public engagement manager, told Ynet that at this stage the organization was not commenting about the allegations against Halabi.
The organization released a statement upon his detention. "We will continue to reach out to the relevant authorities including calling on Israeli authorities to release Mohammad or allow him access to legal support," the statement read. "We also call on authorities to respect the Universal Declaration of Human Rights and proceed fairly and objectively on the presumption of innocence. World Vision also calls on its supporters and partners to join us in praying for Mohammad and his family."
"World Vision stands by Mohammad who is a widely respected and well regarded humanitarian, field manager and trusted colleague of over a decade. He has displayed compassionate leadership on behalf of the children and communities of Gaza through difficult and challenging times, and has always worked diligently and professionally in fulfilling his duties."
The Coordinator of Government Activities in the Territories, Brig.-Gen. Yoav Mordechai, will meet with World Vision representatives on Thursday evening to update them on the case.
The NGO is one of the biggest international aid groups working with the UN and has been aiding the residents of the Gaza Strip since 1975.
The $7.2 million Halabi allegedly funneled to Hamas every year was 60 percent of the annual aid budget to the Strip since 2010, while some 40 percent of the aid money earmarked for civilian projects ($1.5 million a year) that was transferred in cash to the military wing of the organization.
Another portion of the money, as much as $4 million per year, that was supposed to go to those in need in the Strip, was taken and used for tunnel digging and the weapons acquisition. According to the Shin Bet, Halabi elaborated during the investigation about the methodical transfer of money for the terror group: In 2012 $50,000 were transferred by checks to Hamas activists and in 2014, at the height of Operation Protective Edge, Halabi handed out bonuses amounting to tens of thousands of dollars to Hamas activists, including the military wing's commander.
It also emerged that $80,000 of aid money provided by World Vision ended up going toward financing Hamas chekposts in Beit Hanoun in north-east Gaza that can clearly be seen from the Israeli town of Netiv HaAsara.
Hamas was not content however with the millions flowing into its coffers as it also stole food parcels intended for the civilian population. Around 2,500 food packages sent to the Strip for the needy, each costing $100, were taken for Hamas terrorists. Furthermore, some 3,300 packages containing cleaning and care materials sent to the residents, each at the cost of $80, were impounded by the military wing.
Halabi was handled directly by senior Hamas officials including commanders in the northern Strip, the Hamas intelligence chief and indirectly by the chief of the whole military arm, Mohammed Deif. His modus operani included falsifying documents, inflation of projects and fake organization such as agricultural associations in the Strip and assistance to injured people.
The investigation also showed that World Vision inadvertently sponsored the supply to Hamas of materials for building and strengthening military compounds and tunnels such as metal, fences, coverings for greenhouses, pipes and more. Hamas families falsely recorded numbers of children in order to take money which was intended for injured people and others in need.
It also became apparent that during the reign of Mohamed Morsi, Halabi funneled tens of thousands of dollars from the aid budget allocated by World Vision to acquiring weapons for Hamas in the Sinai. Halabi ensured that a third of those receiving unemployment allowances from the aid organization were Hamas activists. They received the highest allowance of 1,500 shekels per month instead of the allotted 1,250 shekels.
The exploitation was also extended top agriculturalists when for every $1,000 transferred from the donations for aid and development for every acre of farmland, in practice only $700 were given to the farmers, the remaining $300 being earmarked for the military wing. These same farmers were also used by Hamas for the building of military watch posts, despite the fact that their operations fell under auspices of UN development programs.
In another scheme aid intended for Gaza's fisherman was diverted for the purchase of diving suits and equipment for the Hamas commando unit. Goods from trucks sent by the organization via the Kerem Shalom crossing were unloaded in the dead of night in Hamas warehouses by Hamas' military activists rather than those belonging to the organization.
"Two million dollars of contributions were allocated for the mental health of the residents, for education and for their health, but it was taken for military purposes," said a senior Shin Bet official on Thursday morning.
"Monetary assistance that was intended for unemployment allowances ended up being food for Hamas activists. Money contributions for injured children and for food for the needy was stolen for the purchase of weapons and for the digging of terror tunnels. During the raid that we conducted of the organizations offices in Augusta Victoria Compound in East Jerusalem we discovered internal correspondence of the organization's comptroller, a foreigner, who testified that he feared for his life if the case was discovered," the official claimed.
"Hamas leaders also instructed Halabi to approach Mohammed Dahlan and to infiltrate the Palestinian Authority and to act a Hamas agent. This is an unprecedented case in terms of exploiting civilian resources for terror purposes. There is no limit to the cynicism of Hamas, that for years dared to insert someone on its behalf into a large international aid organization which raised donations from 100 countries."
The official added that under Halabi, an engineer by profession, World Vision had at least ten other people working in the Strip, some of whom were responsible for managing and coordinating civilian projects and managing accounts and warehouses. They were also involved in the industry of funneling contributions to terrorists. The Shin Bet are currently investigating similar patterns of activity in other international organizations operating in the Strip.
"The case shows the weak supervision that exists in these international organizations because here we have the embezzlement of millions of dollars. These organizations do good work and we don't have any doubt about their intentions. We believe that Hamas took advantage of their naivety," the official continued. "We are extremely cautious when it comes to these international organizations despite the risks because we understand their importance. The Hamas military wing is only interested in the military wing and not what is important for the Palestinian streets."
Despite the charges leveled against him, Halabi's representative denied any wrongdoing. "We deny that which is being claimed in the indictment. When we are more familiar with the investigation material we will be able to provide a response."
For their part, World Vision said it was "shocked" by Israel's allegations and also categorically denied Israel's claims of embezzlement.
"Based on the information available to us at this time, we have no reason to believe that the allegations are true. We will carefully review any evidence presented to us and will take appropriate actions based on that evidence," the statement said.
Hamas spokesman Sami Abu Zuhri, speaking in Gaza, said the group had "no connection to (Halabi) and therefore, all Israeli accusations are void and aim to suppress our people". Hamas also denies any links to Sinai insurgents.
Luke Akehurst, Director of We Believe in Israel, lamented the revelations and expressed his regret and sadness that such acts of goodwill intended to promote life can be exploited to promote acts conducive to destroying it.
"Kind-hearted Brits have given tens of thousands of pounds to a Christian charity to help needy children in Gaza, only to find that they were duped and their money stolen and diverted to fund Hamas's terrorist activities," Akehurst said.
"It's outrageous that instead of helping Gazan children to be fed and clothed, Hamas prefers to build terrorist infrastructure, dig attack tunnels into Israel, pay their terrorist fighters and buy missiles that will be used against Israeli civilians," he continued.
"We would expect NGOs and charities working in a conflict zone like Gaza to have appropriate systems in place to ensure that all their local staff are unconnected to Hamas and other terror organizations, and that all their money is used for genuine humanitarian purposes and in no way can be misused by Hamas to fund terrorism."
Israeli Legal Center, Shurat HaDin also released a statement on the case claiming that past warnings issued by them have now been vindicated: "For the past four years, Shurat HaDin has been warning that funds provided to Gaza by Christian mega charity, World Vision, were being utilized for Terrorism. In 2012, Tel Aviv based civil rights center, Shurat HaDin, notified the Australian government that its aid money being administrated by World Vision was being transferred to front charities of Palestinian terror groups in Gaza. Both the Australian government and World Vision denied Shurat HaDin's warning."
Reuters and AP also contrbuted to this report.