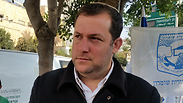 Yossi Dagan
Photo: Eli Mandelbaum
Soon, an official intergroup of friends the West Bank in the European Parliament will come into being for the first time. The intergroup, a form of caucus, will be composed of more than ten members of European Parliament (MEPs) from several countries, headed by Czech MEP Petr Mach (Europe of Freedom and Direct Democracy Group).

The parliamentarian met on Wednesday with Samaria Regional Council Chairman Yossi Dagan in Prague to formalize the intergroup's formation.

In the past, officials from the regional council have held meetings in the European Parliament, and they have even been partners in organizing a conference there, but there has never been an official intergroup supporting settlements in the West Bank.

Yossi Dagan and Petr Mach (צילום: דוברות מועצת שומרון)

The "group of friends," as Mach called it, will begin working when the European Parliament returns from its summer recess in September. One of its goals will be to oppose marking products from the West Bank and the BDS movement in general.

Over the past three year, the Samaria Regional Council has hosted some 150 parliamentarians from all over the world and some 300 foreign journalists. This is how the connection was made to Mach, who visited the area in one of these group tours.

Mach claimed that Czechia has been friendly to Israel since its creation, maintaining that, despite changing governmental positions, the Czech people have always supported the Jewish State.