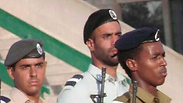 The IDF soldier Damas Pakada, the soldier of Ethiopian descent who was assaulted by Israel police officers, finished military's Officers' Training School this week. The attack, which was filmed by a security camera, led to mass protests against discrimination and racism aimed at the Ethiopian community.

Pakada's lawyer, Eyal Abulafia, who is still representing the new officer in his lawsuit against the Israel Police and the soldier who assaulted him, posted to Facebook a photograph of the graduate crying and hugging his brother.

Wrote the attorney, "He isn't just crying because he finished the officers' course; he's crying because if there hadn't had been a camera that filmed the incident in which he was attacked by a policeman and detained on false charges for having attacked a policeman and cursing at him, he would not today be an outstanding soldier in the IDF and certainly not a proud officer, but rather a convicted criminal with no future."

Pakada's attack

The incident of police abuse was filmed in April 2015 and showed Pakada, a soldier in uniform, approached by two policemen who speak with him for a few moments before violently assaulting him. The police officer who led the assault was not criminally charged, and the case against him was closed. This led to the young soldier, via Abulafia, filing his civil suit. Pakada is also attempting to have the case reopened and criminal charges brought against his assailant, who is no longer with the police.

Speaking Friday night, Abulafia said that they had met recently with the attorney general and hope to achieve their goals within the coming month. "It's not possible that just because that policeman is no longer with the police, he won't go through a legal process of being charged… Even after the incident, the IDF, which was silent at the time (of the attack), chose Damas as an officer from its ranks, and the facts speak for themselves."

The Pakada family released a statement that stated, "Today, more than ever, we are proud of Damas. He is an example and a role model in our eyes. Nobody broke him, and he chose to go forward with the excellence that characterizes him. It was clear to us as his family that nothing will break him, and we thank all his supporters and hope that his attacker will be charged soon."

Just this past week, the Inter-ministerial Committee to Eradicate Racism against Those of Ethiopian Descent presented its findings and 53 practical recommendations to the prime minister. A substantial part of those dealt with police treatment. However, the 15 recommendations regarding the Israel Police were all removed from the report, apparently due to pressure from Public Security Minister Gilad Erdan.