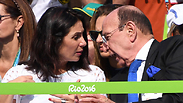 Sports Minister Miri Regev in Rio
Following an incident whereby the Lebanese Olympic delegation refused to let the Israeli delegation onto a bus to travel with them, Sports and Culture Minister Miri Regev issued a harsh response.

She said "I'm in shock over the incident whereby the Israeli Olympic delegation was shamefully forced off of a bus because the Lebanese Olympic delegation refused to travel on a bus with Jewish Israelis. This is the worst kind of anti-Semitism and racism."

She continued, saying "where is the world which is allegedly so against the national-racist segregation of busses, especially after Jews were requested to get off of a bus at the request of other passengers? The International Olympics Committee – upon whose flag is inscribed the need to separate politics from sports – must condemn these actions so that something like this will never happen again."

"I spoke with Yigal Karmi, the chairman of the Israeli Olympics Committee, and I made it clear to him that he can not let this incident slip by. Keeping silent on these types of incidents only legitimizes (discrimination –ed) against Israeli athletes," the minister added.

Minister Regev was updated regarding what will be done in regards to the actions taken by the Lebanese delegation.

"The subject will be brought up on Sunday during a general meeting between the committee heads of the various national Olympics committees in order to get an official condemnation of the event and prevent something similar from occurring again," Regev said.

"I send a warm hug to the Israeli athletes who were humiliated on such an important day for them. I will strengthen Coach Udi Gal who has been overwhelmed by this anti-Semitic and un-sportsmanlike incident. It is upon all of us to make sure that this incident isn't swept under the rug until these types of incidents are stopped."