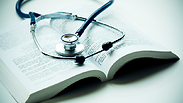 stock photo
Photo: shutterstock
Barring a last minute change, come Thursday, doctors at government hospitals in Israel will go on strike over plans by the Ministries of Health and Finance to prohibit senior doctors, who are department heads, from carrying out surgeries in private clinics.
As part of the strike, hospitals will work according to Shabbat protocols, wherein all nonessential treatments and surgeries will be postponed. The strike is expected to increase the workload in hospitals and thus extend already prolonged waiting periods.
The Israel Medical Association declared the strike following disputes last week. "We're talking about offensive behavior that is unilateral and lacking good faith on the part of the government. The goal of the strike is to create dramatic changes in the working conditions, salaries, and statuses of doctors," said the IMA.
"We are protesting the intention to prohibit the right of doctors to perform private work or practice. These rights have been in place for decades and have been enshrined in collective agreements and civil service regulations," the statement continued.
Another reason for the strike relates to government plans to limit the tenure of hospital administrators and department managers. The Association for State Hospital Doctors also joined the strike, whose chairman Dr. Nimrod Rahamimov said, "we are at a point where our backs are against a wall and we are fighting for the soul of Israeli medicine. It is a war of necessity. We will not allow Treasury officials to ruin our lives."
IMA chairman, Dr. Leonid Eidelman, protested the "implications for the doctors, which restrict their professional judgment and harm their ability to maintain their professional and ethical obligations."
Health system officials have expressed surprise at the decision of the doctors to strike. "It appears as if the doctors aren't particularly worried about the public health system, but rather more their own pockets. The goal of the Ministry of Finance is to strengthen the public health system, and we would expect senior doctors to welcome that."
Mirsham, the organization of medical interns in Israel, said in response that "for two months already, interns who are carrying the public health system on their backs, have been leading a hard struggle against the difficult conditions in which they work and against the service Israelis receive in hospitals—and the IMA, which is supposed to represent them, has not made a sound. Now they are declaring a labor dispute and striking against hospitals and the steps taken by the Ministry of Finance. It is too little too late. Where were they until now, when for years interns and public health were being harmed?"