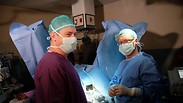 Surgeons during a procedure
Photo: Yariv Katz
The Israel Medical Association (IMA) plans on going ahead with a strike on Thursday, despite their original demands being met.
The IMA initially announced a labor dispute over intentions to regulate department heads. However, after the main issues had been addressed they changed their reason to protesting "the state of the health system."
Regardless of the motivations to strike by the IMA, barring any last minute changes, there will be a strike in public hospitals on Thursday, resulting in dozens of cancelled surgeries, with many departments working on a limited, emergency basis.
The labor dispute was declared by the IMA two weeks ago. At the time, the doctors asked to cancel a clause in the Economic Arrangements Law which determines that senior doctors—at the department and unit management level—will not be able to practice in private clinics, but rather would stay in public service and in return, receive significant raises in their salaries.
In addition, the IMA came out against the plan to limit the tenure of hospital administrators and officials in the public health system to a period of 12-13 years—compared to the current situation, where administrators are not limited by time. An additional motivating factor to the strike as mentioned by IMA heads is Minister of Health Yaakov Litzman's plan to put into effect a law that will enforce significant discipline on hospital administrators who exceed their set budget.
Meanwhile, the Ministry of Health announced that it has decided to remove the clause within the Economic Arrangements Law preventing department heads from working in private clinics. In response, however, the IMA has chosen not to back down from their intention to strike, and the strike is expected to commence regardless.
At a press conference Tuesday, Dr. Leonid Eidelman, chairman of the IMA, changed his reasoning for the strike and claimed: "The struggle is not about salary, but rather the development of the health system, perception of doctors, shortening of lines and advancement of medicine—the Economic Arrangements Law is cutting back health in the country."