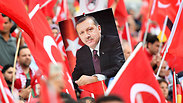 Russia was the first country to condemn the attempted coup in Turkey and publically support Recept Tayyip Erdoğan's regime. The Turkish president, for his part, publically thanked President Vladimir Putin at the start of his press conference in St. Petersburg and even referred to him as his "dear friend."
"This is a position of principle for us," said Putin in response to Erdoğan. "We completely oppose any anti-constitutional activity. I hope that under your leadership the Turkish people will deal with the attempted coup."
Putin received the Turkish president in a meeting that symbolized the end of a crisis between the two countries following the downing of a Russian jet by Turkey near the Syrian border. Relations rapidly deteriorated following the incident, with the Russians imposing economic sanctions on Turkey. Erdoğan also sharply attacked Putin following the incident.
Economic interests, however, prompted Turkey to adhere to the Russian demand of apologizing over the incident. In an interview with Russian media, Erdoğan said, "I consider this visit a new beginning in the relations between our countries. I would like to extend a warm greeting to Vladimir Putin and the Russian people, on behalf of myself and the Turkish nation."
Another factor that may be bringing the countries closer together is Turkey's ire toward the United States, primarily over its refusal to extradite Fethullah Gulen, who according to Erdoğan, was behind the attempted coup. Russia, which is interested in reducing the global power of the United States, would be happy to stand together with Turkey, in light of the new reality.
One of the biggest questions is whether Ankara and Moscow will succeed in bridging the gaps between them in terms of the desired solution in Syria. Until now, they were on opposite sides, with Moscow supporting Assad and Turkey working against him. If the two parties can succeed in coming to an agreement, it could greatly improve the chances of coming to a political agreement in Syria.