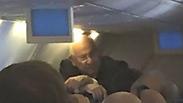 Rivlin flying coach
Photo: Taken from Facebook
President Reuven Rivlin reportedly said behind closed doors in recent days, "I don't need a plane, and if it were dependent on me, I would keep flying commercial, but I'll do as I'm told." He was responding to reports of Israel's having purchased an "Israeli Air Force One"—a plane intended for exclusive use by the prime minister and the president.

The passenger plane, which was purchased abroad and the details of which the Military Censor has forbidden from being published, landed a few days ago in Israel, and it is to undergo modifications to render it appropriate for transporting the heads of state and government. This follows the cabinet having approved in November 2015 a budget of some 400 million shekels for the plane and accompanying costs. An additional 30 million shekels per annum were budgeted for the continued maintenance of the craft.

The plane, which is expected to enter into service in about a year, is to be outfitted with various defense mechanisms and advanced avionics and communications equipment.

The Prime Minister's Office is marketing the plane as "the prime minister and president's plane," but the president himself isn't interested in it. In addition, Rivlin's office was not included in defining the parameters for the plane to be purchased or redesigned, and the president was only updated about the cabinet's decision to purchase the plane after the fact.

Rivlin makes a point of flying on regular commercial flights. At times, he makes do in coach, and he has even flown budget airlines in the past.

The President's Residence commented on the matter, "The president will continue to fly in the manner most appropriate for the state's budget and in accordance with the security requirements applying to him."