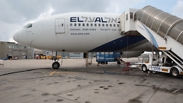 The PM currently travels on commercial flights or rented planes. (Archive photo)
Finance Ministry suggests postponing new PM residence, cutting costs on new plane
The new residence is expected to cost about NIS 650 million, with the plane costing about NIS 400 million. The PMO opposes the Finance Ministry on the issue of the residence, and has thus declared the issue classified, meaning the discussions about it will be conducted in the Security Cabinet.
The Ministry of Finanace is suggesting a postponement in the construction of the new Prime Minister's Residence, which is expected to cost the state about NIS 650 million, to the year 2020. The Prime Minister's Office (PMO) opposes this suggestion, and thus, in an effort to prevent its discussion by the whole government, it has declared the matter classified, which means it is to be discussed Thursday by the smaller forum of the Security Cabinet instead.

The Cabinet will also be asked to discuss a Finance Ministry proposal for a cost cut of NIS 180 million in the budget for the new plane that will serve the Israeli PM and president. If the proposal is adopted, the cost of the plane will go down from NIS 400 million to about NIS 220 million.

The government approved the construction of the new residence and the acquisition of the new plane in May 2014. The expected costs of the plane at the time were estimated to be NIS 185-245 million. The estimates grew in the meantime, and now the Finance Ministry says a cut is required.

The plans for constructing a new residence for the PM has been mulled about in political circles for years. It was approved in 2009, postponed shortly thereafter, and then re-emerged in 2013, after a government committee recommended that a special plane be purchased, changing the status quo of the PM and president traveling on commercial flights and in rented planes. Its recommendations were approved by the government in April 2015, then by the Cabinet in August of that same year.

According to Finance Ministry figures, the basic cost of acquiring the plane and making initial adjustments would be about NIS 175 million, but that does not include upgrading its security features. Both the new residence and new home proposals were criticized by the Finance Ministry, which claimed there was no financial justification for either. As an example, the ministry explained that the plane would entail unforeseen costs for maintenance, storage, etc.