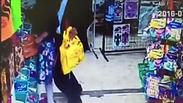 Security footage of the incident.
Security camera footage recorded in a store in Bnei Brak three weeks ago shows an ultra-Orthodox man sexually assaulting a 7 year-old girl. The video clip shows an ultra-Orthodox man following the child the moment she entered the store and as she passed between aisles.
After several minutes in the store, as the girl was putting markers in her basket, the man appeared behind her and pressed himself closely against her. Immediately following the assault, the girl left the store in a panic and informed her family of the incident. The family duly filed a criminal complaint with police in the Dan District. The police immediately began investigating the case.
Security footage of suspect
Since the incident, which occurred three weeks ago, police have been attempting to locate the suspect, who was eventually identified by acquaintances who recognized him from the security footage and reported him to the police. Police then arrested the suspect Friday morning. During his interrogation, the 23 year-old man admitted to the charges against him.
A hearing was held this morning at the in Tel Aviv Magistrate Court where police requested the judge extend the suspect's remand by an additional 5 days. Judge Ronit Poznanski-Katz decided to release the suspect to house arrest under restricted conditions.
A segment of the security footage of the incident was published on the Facebook page of Lo Lishtok (Don't Be Silent), a group that deals with sexual harassment and assault in the ultra-Orthodox sector, in an attempt to locate and identify the suspect within the community. "There has been significant progress against sexual abuse in the (ultra-Orthodox) sector, but there is still fear of reporting and turning in offenders," said Rachel Roshgold, a social activist and director of the organization.
"There is fear stemming from blasphemy and defamation against people, but it is important to understand that reporting something like this is a sacred duty," she added. "Criminals like these don't just harm once, and therefore there is an obligation to uphold the verse 'purge the evil from your midst,' just like we would turn in a terrorist who was running through the street with a knife, without thinking twice," Roshgold added.