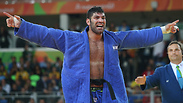 Sasson, after winning his Olympic bronze medal.
Photo: Oren Aharoni
Israeli judoka Ori Sasson, 25, won bronze in the Rio 2016 Olympic Judo championships in the men's 100+ kilogram weight class Friday night, after defeating Cuban opponent Alex Maxell Garcia Mendoza by a penalty. He is the second Israeli to win a medal in this year's games, following fellow judoka Yarden Gerbi's bronze medal win on Tuesday.

Sasson defeated his first three opponents in the contest, before losing the semi-final match to heavily-favored former Olympic and multiple-time world champion Teddy Riner of France.





Sasson's day started on a bittersweet note, as he won his first match, only to see his defeated Egyptian opponent Islam El Shehaby refuse to shake hands, in a display of unsportsmanlike conduct.

Sasson beat El Shehaby by ippon – the highest score in Judo, which ends the match. He then approached El Shehaby an offered him his hand to shake, a common sportsmanlike gesture among judokas after matches. However, El Shehaby, who had spoken harshly about his Israeli opponent before they met on the mat, backed away, refusing Sasson. He was booed by the crowd in Rio.

Shehaby's actions followed heated words spoken by the Egyptian against Sasson, relating to his nationality, before the match (but after the two saw the draw, knowing they'd be facing each other). The match was thus considered an especially tense affair for viewers watching at home.

El Shehaby's actions were later condemned by Egyptian Olympic officials, who claimed he acted on his own accord and was not directed to snub the Israeli.

Sasson then went on to defeat Maciej Sarnacki of Poland in round 2 and Roy Meyer of The Netherlands in the quarter finals, both by points (wazari), before losing to Riner by points in match that was very close until the last seconds. He then went on to fight Mendoza for the bronze, winning the first Olympic medal of his career.