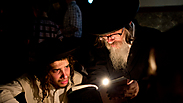 Tisha B'Av in Meah Sha'arim
Photo: EPA
At the ending of the Sabbath on Saturday night, the fast of Tisha B'Av (the 9th of the Jewish month of Av) will begin, and observant Jews all over the world will mourn the destruction of the First and Second Temples, the latter leading to the exile from the Land of Israel two millennia ago.

The fast is the climax of the Three Weeks, a period of mourning that began with the fast of the 17th of Tammuz that marked the breaching of the walls of Jerusalem by Roman forces. As Tisha B'Av immediately follows the Sabbath, the Havdalah ceremony, which marks the end of the weekly day of rest, is observed without wine or incense, and the prayers are truncated. All those practices are delayed until the fast's conclusion on Sunday night.

The night of the fast, across the world and famously at the Western Wall in Jerusalem, Jews will recite kinnot (dirges and elegies). Over the years, the fast has become a day of spiritual accounting on which many speak of the commandments from one person to their neighbor, accepting others, and discussing "baseless hatred," which is the reason that religious Jews explain that God permitted the Second Temple to be destroyed. This discussion is updated and based on contemporary Israeli society.

Thousands are expected to visit the Western Wall and the City of David Saturday night. Every year, supplicants pray at the Wall all night long, and the book of Lamentations is read both there and in synagogues throughout the country.

Restaurants and places of entertainment are de jure required to close, though this prohibition is not necessarily respected or enforced. Would-be revelers would be wise to telephone ahead.