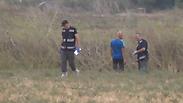 Police forensics at the scene of the attack
Photo: Ori Davidovitz
Truck driver questioned on suspicion he fatally shot would-be thief
64-year-old driver hears suspicious noises outside his home early Sunday, leading him to confront three Arabic-speaking men suspected of trying to steal his truck; body found in field near his home, but driver says he only shot into the air.
A truck driver was questioned by police on Sunday on suspicion he fatally shot a man who allegedly tried to steal his vehicle.

The 64-year-old driver recounted the incident that happened in the early hours of Sunday outside his home in Moshav Beit Elazari in central Israel, saying he came out of his house after hearing suspicion noises.

"I saw three figures and I shouted at them to leave. Instead they started talking in Arabic and then approached me and threatened me. I ran away and tripped as a result. I then fired several shots into the air and they ran away. I went back into the house and immediately called the police," he said.

The driver claimed the three, who are suspected of trying to steal his truck, also threatened him with a crowbar.

A trail of blood led police to finding a man's body in a nearby field, but the driver said he was not aware of having hit any of them. Police suspect that the dead man, around 30 years old, was one of the would-be thieves.

The driver's lawyer, Ben-Zion Kevlar, said that "This is a peaceful and law abiding citizen who is going through the scariest and most Kafkaesque scenario possible. In the dead of night, someone tried to take his property and then tried to hurt him, and he defended himself. I'm sure the police will do their work well and see there is no room to suspect him of anything." Kevlar stressed the gun was licensed.

Doron Shidlov, the head of the Brenner Regional Council where the incident occurred, said "residents in the regional council have to deal with burglary of their homes, their warehouses and their farmlands every day—whether by themselves or as part of an organized independent group. The residents risk their lives and stand as a human shield to protect their homes and property. The overall feeling is that of a lack of personal security. I call on the police to do everything in its power to protect the residents of Brener on a daily basis."

The truck driver might be able to use the "Dromi Law" in his defense. The law, passed in 2008, considers opposition to intruders as self-defense. The law does not apply, however, when this opposition was "patently unreasonable, under the circumstances, to stopping the intruder," or if one caused the intruders to enter the house.

The law was passed after an Israeli farmer, Shai Dromi, in an act of self-defense, shot and killed and intruder and wounded another in January 2007.