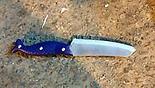 Knife used
Photo: Samaria Regional Council
A female terrorist attempted to carry out a stabbing attack against Israeli soldiers at a checkpoint in Samaria in the West Bank on Sunday evening. The attacker has been neutralized.

The attacker came to Shaked Checkpoint in northern Samaria by car. Armed with a knife, she exited her vehicle and pulled out the knife.

Soldiers on the scene identified the weapon and deduced her intent, and they managed to gain control of her. She was arrested and taken for questioning.

The IDF spokesperson reported that a female soldier on the scene was lightly wounded by the knife in the struggle to neutralize the threat. She received medical treatment at the scene.