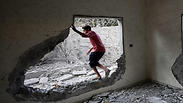 Two years after the fighting between Israel and the Islamist Hamas movement in the Gaza Strip, about 70,000 Palestinians have not returned to their homes that were damaged in the fighting. Just 200 homes have been completely rebuilt and the families returned.

"We ask the international community to increase their donations and the countries who pledged billions to respect their pledge," Adnan Abu Husna, spokesman for the United Nations Relief and Works Agency (UNRWA) told The Media Line. "The people of Gaza should not get to the point that they feel they are forgotten."

Abu Hasna said that nearly 140,000 homes were damaged either totally or partially, mostly from Israeli airstrikes. Of those, 9500 were completely demolished, and 5000 were so damaged that people cannot live there. At an international donors conference soon after the fighting ended, UN officials asked for $724 million, but only received $257 million.

He said the UN has helped nearly 70,000 families with some type of financial assistance. While thousands of families were originally housed in UN schools, all of those whose homes were destroyed have either rented new homes, paid for by the UN, or are living with relatives.

The pace of reconstruction has been glacial, partly because Israel accuses Hamas, which controls Gaza, of diverting cement and other materials to build weapons and tunnels. Those allegations were strengthened last week, when the Israeli Shin Bet announced charges in two separate cases, against local employees in Gaza allegedly working for Hamas.

In the first case, Israel accused Mohammed al-Halabi, the head of World Vision in Gaza, of diverting more than seven million dollars each year since 2010 to Hamas in Gaza. "We condemn any diversion of funds from any humanitarian organization," World Vision International President Kevin Jenkins said in a statement. "If any of these allegations are proven to be true, we will take swift and decisive action," although added that the organization had "not seen any of the evidence," and suggested the numbers had been exaggerated.

"World Vision's cumulative operating budget in Gaza for the past ten years was approximately $22.5 million, which makes the alleged amount of up to $50 million being diverted hard to reconcile," the statement read. The organization suspended its operations in Gaza.

In the second case involving the UN Development Program, Israel charged Wahid Borsch, funneled resources to Hamas to build a naval port for Hamas commandos. UNDP denied any wrongdoing, saying that "the rubble in question was transported to its destination according to written instructions from the Ministry of Public Works and Housing of the Palestinian Authority as to where it should be placed."

UNDP officials also questioned the details of the case, saying they had not yet seen the evidence against Borsch.

"We are waiting for the proof on all of these things," Dania Darwish, a spokeswoman for UNDP said. "Wahid is a contractor at UNDP. He does not have any management responsibilities. UNDP has strict processes and guidelines that must be followed."

In any case, even if all of the damaged homes are rebuilt, the economy in Gaza faces growing challenges. A World Bank report found that Gaza's unemployment is the highest in the world, and many of Gaza's residents are completely dependent on UN food aid.

Although Israel withdrew from Gaza in 2005, it continues to control what goes into and out of Gaza. Palestinians call it a blockade, while Israel says it has worked to prevent a humanitarian crisis.

"Everyone talks about what is going in to Gaza, but we also have to think about what is going out," UNRWA spokesman Chris Gunness said. "Unless Gaza can export, there won't be a viable economy there. There have been no meaningful exports from Gaza since 2007."

A spokesman for Israel's Coordinator of Government Activities in the Territories said they were unable to provide details of Palestinians exports allowed to leave Gaza.

Article written by Linda Gradstein

Reprinted with permission from The Media Line.