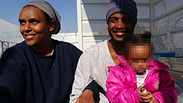 Refugees
Photo: Barel Efrhim
Following Defense Minister Avigdor Lieberman's decision on Sunday to halt volunteer activities between the IDF and children of migrant workers and asylum seekers, soldiers, community workers and Knesset members have reacted with disappointment and anger.

Eli Nehama, principal of the Bialik-Rogozen school in Tel Aviv—where 1,300 children of migrant workers and asylum seekers will shortly begin their school year—said, "This is an unfortunate decision. Some of our students are Israeli citizens, and they will be drafted into the IDF, too. Whoever thinks that these children are going to corrupt the soldiers or the exposure of these soldiers to reality isn't right is seriously mistaken.

"These soldiers are role models to our students who don't have a parent or older sibling available. Suddenly, they see these soldiers and they realize there is a future. These children must be left out of political discourse."

Even the soldiers who volunteer with the children are disappointed by the decision. "Our connection with the children was very strong," said Sgt. Omer who, together with his unit from the Intelligence Corps, had been volunteering with the children. "To tell us that we are no longer allowed to volunteer there with these children specifically is racist. What have they done? I don't understand how anyone can even think of preventing volunteer work with these children. As a Jew, I feel it's a disgrace."

Yael Gvirtz, of the organization Elifelet, which assists refugee children, said, "I am very sorry that the legitimate debate about the position and future of refugee seekers in Israel has fallen on the backs of the IDF and helpless refugee children, who are only three and four years old."

While many MKs in the governing coalition backed Lieberman's decision, the opposition were quick to criticize. MK Ofer Shelah (Yesh Atid), a member of the Foreign Affairs and Defense Committee, said, "These children of foreign workers are the poor of our city. If soldiers are volunteering at a kindergarten—and I don't think that's something they need to be doing anyway, regardless of the ethnicity of the children—a kindergarten that has children of migrant workers is just as legitimate as any other institution that needs assistance."

Former defense minister MK Amir Peretz (Zionist Union) said, "On Tisha B'Av of all days, it would behoove the defense minister to read a thing or two about what Jewish values teach us about strangers living among us, as we too were once 'strangers in the land of Egypt.'"

Deputy Minister of Defense, Rabbi Eli Ben-Dahan, supported the decision saying, "Israel invests millions every year to care for children of illegal residents, but it is not a matter the army should be a part of. IDF soldiers have a limited amount of time available to volunteer, and they should spend it with Israeli citizens."