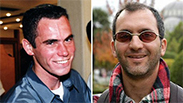 Goldwasser and Regev.
Photo: AFP
Finding yourself as the unwitting star of a program on Hezbollah's TV channel is probably not an appealing thought to many Israelis. It's not hard to imagine the expressions on the faces of (MK) Tzipi Livni, (MK) Amir Peretz, IDF Maj. Gen. (ret.) Eyal Ben-Reuven and two other Israeli national security experts when they discovered they had been duped.

Especially when they saw, or were shown, how they speak openly about the kidnapping of IDF soldiers Eldad Regev and Ehud Goldwasser, on Hassan Nasrallah's own television station.




The split screen of 2006: The Reality, whose last episode was broadcast on Saturday on Hezbollah's Al Mayadeen channel, showed the face of Imad Mughniyah – commander of the Hezbollah force that abducted the two Israeli soldiers - creep up from time to time, grinning menacingly in the direction of the Israeli interviewees.

But the one who's set to pay for this stunt is Italian journalist Michele Monni, who went after the Israeli leaders and got them to speak in front of the cameras. I don't know the man and have never met him myself. I looked at his Twitter and Faccebook pages for a bit and found a hard-working journalist who favors the Palestinian narrative.

Monni's Hezbollah handlers attempted to stand by him, claiming he was sent to perform the interviews due to his connections with the Israeli top brass. We found a hook, they explained. The interviewees didn't check his background with thoroughly enough, and the interviewer didn't see the full picture either.

Michele Monni is on his way out. He's already been suspended from his position at Italian news agency ANSA. This was the position that allowed him to receive a journalist certificate from the Israeli Government Press Office (GPO) in Jereusalem. When he took the job – whether he knew he'd be working for Hezbollah or not – he did not inform his superiors or ask their permission.

I assume that expressions of contrition will not help Monni in his disciplinary hearing. He acted dishonestly. When he requested the interviews (with the aid of an Israeli official with ties to the media), he made two promises: The first was that the interviews would be shown on the BBC and Al-Jazeera. The second was that it would be broadcast on "international media" outlets. It just so happened that politicians, experts, and one IDF major general casually fell into the trap. Who would give up an opportunity to speak to the "international media," after all?

This embarrassing episode is an important lesson in media. I assume the politicians' spokespeople fell for this trick because Monni used the respected ANSA name. Had they made even a single phone call to the Rome-based news agency's Jerusalem offices, this fiasco could have been prevented. Nothing would happen to a spokesperson if they insist on finding out whether this interview really was on the up and up (again, it could be done in as little as one phone call). And to be honest, professional spokespeople should have been suspicious when they heard about an alleged cooperation between Al-Jazeera and the BBC.

Palestinian TV producer Ahmad Barghouti - who solicited Monni's services to get the interviews, paid , and started this whole mess – cannot be found. He's not responding to cell phone calls and has disappeared. My Palestinian colleagues in Ramallah haven't heard a thing. It should be noted that Hezbollah hasn't been as pompous as one might expect it to be in the wake of this little sting operation's success.

And after all is said and done, the man who really generates the most sympathy in all of this is Tomer Weinberg, who was wounded in the incident in which Goldwasser and Regev were kidnapped, but survived. Monni fooled him directly, without going through spokespeople or media advisers. The broadcast made him look bad, and brought back the trauma for him. That alone would be reason enough to give the Italian journalist the boot.