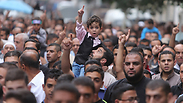 Illustration photo of Gaza protest
Palestinian businessmen staged a protest Monday at a crossing between Gaza and Israel over what they said was Israel's mass cancellation of travel permits that they claimed was suffocating trade.

Palestinians accuse Israel of having scrapped hundreds of travel documents allowing them to enter Israel and the West Bank as well as other countries for trade.

The Palestinians say that the permits are crucial to the economy of the Gaza Strip, particularly in light of Israel's security blockade imposed to prevent the supply of weapons to Hamas then used against Israel.

COGAT, the defence ministry body responsible for implementing government policies in the Palestinian territories, refused to comment on Monday.

But an Israeli official confirmed to AFP: "There are currently 1,600 trading permits, compared to 2,800 in the same period in 2015."

Walid al-Hosary, chairman of the Gaza chamber of commerce, said that "more than 1,500 permits and more than 160 authorization cards for merchants and businessmen have been withdrawn." Israel had cited "security reasons", he told the demonstrators at the Erez crossing.

Also, "the entry into the Gaza Strip of many of the necessary raw materials and goods for the industrial sector have also been prevented," he claimed.

"We also call for more neutrality in the private sector and for it not to be mixed in any political decisions, because traders, businessmen and industrialists do not have anything to do with political matters," Hosary added.

Israel controls all but one of the crossing points with Gaza -- the Rafah crossing into Egypt.