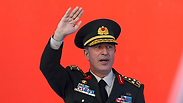 Turkish President Recep Tayyip Erdogan (Photo: Reuters)
Citing a classified document from the Interior Ministry to representatives of the Left party, German public broadcaster ARD reported Tuesday that members of the German government consider Turkey's regime a supporter of terrorist and militant groups in the Middle East.

According to the classified report, German officials appear to have acknowledged that Turkish President Recep Tayyip Erdoğan has provided weapons support for militants fighting the regime of Bashar al-Assad in Syria, something Turkish journalists have reported in the past. "Particularly since the year 2011, as a result of its incrementally Islamized internal and foreign policy, Turkey has become a central platform for action for Islamist groups in the Middle East," German officials were quoted saying.



German security officials also reportedly said Erdoğan has an "ideological affinity" with the Egyptian Muslim Brotherhood, which had Egypt's longstanding essential despot, former president Hosni Mubarak, and whose tactics have caused some to see it as a terrorist group and others as a political movement. The Muslim Brotherhood itself was overthrown in 2013 during a coup that resulted in Abdel-Fattah el-Sissi replacing the Muslim Brotherhood-affiliated Mohammed Morsi as president.

According to ARD, German officials also said that Erdoğan also supported the Palestinian terrorist organization Hamas. Turkey's president has said as much in the past, telling US news host Charlie Rose in a 2011 interview that "I don't see Hamas as a terror organization." Rather, he described it as "a resistance movement trying to protect its country under occupation," referring to the Israel-Palestinian conflict.

It should be noted that though Israel, the US and EU all list Hamas as a prohibited group, nations such as Norway, Switzerland and Brazil do not.
Turkey burns with anger
Turkey's foreign ministry said in response that "the allegations are a new manifestation of the twisted mentality, which for some time has been trying to wear down our country, by targeting our president and government."
Ankara has been incensed by what it sees as an insensitive response from its Western allies, accusing them of only showing concern for the crackdown that has followed the coup.
The West worries Erdogan is using the coup to stifle dissent. More than 35,000 people have been detained in the purge, and tens of thousands of civil servants dismissed or suspended from the police, judiciary and schools.
Ankara has also accused Europe of not doing enough to tackle militant groups at home. It believes European governments should be a stronger partner in its fight against the militant Kurdistan Workers Party (PKK), seen as a terrorist group by Turkey, the European Union and the United States.
"It is obvious that behind these allegations are some political circles in Germany known for their double-standard attitudes in the fight against terror, including the bloody actions of the PKK terror group which continues to target Turkey," the foreign ministry said.
"As a country which sincerely fights against terror of every sort whatever its source, Turkey expects that its other partners and allies act in the same way."