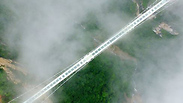 Israeli architect designs highest glass bridge in world
Haim Dotan's 430-meter-long erection in China's Hunan province has been opened to foot traffic; at 300 meters high and completely transparent, it is not for the faint of heart; such bridges are in vogue in China at the moment, even hosting weddings.
What is believed to be the world's highest and longest glass bridge, designed by Israeli architect Haim Dotan, is opening this weekend in China.

The footbridge connects between two cliffs in Zhangjiajie in the Hunan Province. Construction finished in December, though it has not been opened to brave crossers until now.




The bridge is 430 meters long, six meters wide, and it is 300 meters high. Chinese news agency Xinhua reported that its cost was $3.4 million. Ninety-nine triple-level clear glass panels are installed along its length.



This bridge continues the trend of glass bridges in China. Yoga conferences and even weddings are being held on similar structures in the country.

Regarding the security of walking hundreds of meter above the ground on glass, the Chinese have held several events to showcase the bridges' safety. In one such instance, a passenger car was driven on a bridge.