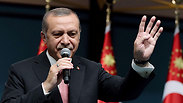 President Erdogan
Photo: Reuters
Turkish parliament approves Israel reconciliation deal
The reconciliation deal's ratification by Turkey ends a six-year rift following May 2010's Mavi Marmara incident that ended in the death of 10 Turkish activists aboard; Israel already ratified the agreement, so its items may now be implemented, including the exchange of ambassadors and state visits and a $20 million compensation payment from Israel to the victims.
Turkey's parliament has ratified a reconciliation deal reached with Israel, ending a six-year rift and paving the way for the restoration of full diplomatic ties.

Parliament voted to approve the pact early on Saturday before it closed for a summer recess.

Relations between Israel and what was once its principle Muslim ally crumbled after Israeli marines stormed what purported to be an aid ship, the Mavi Marmara, in May 2010 to enforce a naval blockade of the Hamas-run Gaza Strip and killed 10 Turkish activists on board.

Turkey expelled Israel's ambassador and froze military cooperation after a 2011 UN report into the Israeli raid largely exonerated the Jewish state. Israel and NATO member Turkey, which both border Syria, reduced intelligence sharing and cancelled joint military exercises.

Under the terms of the reconciliation agreement, Israel will pay a "lump sum" of $20 million in compensation to the victims within 25 days.

Individual Israeli nationals also would not be held criminally or financially liable for the incident.

Footage from Mavi Marmara incident (Credit: IDF Spokesperson's Unit)

The mending in relations with Israel raises the prospect of eventual cooperation to exploit natural gas reserves worth hundreds of billions of dollars under the eastern Mediterranean, Israeli officials have said. Israel and Turkey will re-establish full diplomatic and normalized relations, including the exchange of ambassadors

The Israeli cabinet has already approved the deal in June.