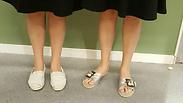 Ulpanit Jeshurun students
Parents of the students at Petah Tikva's Ulpanit Jeshurun are protesting the administration's new requirement that the students of the all-girls National Religious high school wear floor-length skirts from now on. Heretofore, knee-length skirts were the norm.

Some 1,000 girls from seventh to twelfth grade attend Ulpanit Jeshurun. Their parents received a letter from the principal, Rabbi Yaniv Cohen, this week, informing them of the new restriction "out of respect for the educational work" of the institution.

His letter continued, "As people of education, we cannot ignore the situation of a lack of derech eretz and basic respect for the subjects that we learn and teach. We've tried everything, absolutely everything (talks and workshops, discipline and enforcement and more), to no avail (and if hundreds of students come to the ulpanit in the above fashion, it's apparently complicated for you, too, and not easy.). We decided that the students will come to the ulpanit with a long skirt ('kissing the ground')." All the parenthetical comments appear in the rabbi's original letter.

He announced that a fashion sale would take place at the end of the month at the school, and affordable and acceptable skirts would be sold there.

The mother of one student wrote on her Facebook Timeline, "I wonder why the rabbi didn't present his teachings when we came to hear him last year. I expect our representatives in the municipality to intervene and find us another official option, or that they twin with the city of Riyadh in Saudi Arabia." She did not care for the decision being announced a fortnight before the school year begins, when she hasn't the time to enroll her daughter elsewhere.

One student's father, who is a member of the PTA, said, "This decision has caused indignation among the parents…I don't want the girls to prefer to go to a secular school just because of the skirt length." He expressed his frustration that the decision was taking without consultation with the parents.

Despite this, the Ministry of Education said in response, "The school administration is maintaining a dialogue on the matter with the students and parents. The final decision will be taken only after exhausting the educational processes and in accordance with the spirit of the community."