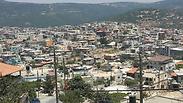 Beit Jaan
Photo: Muhammad Shinawi
Bayit Yehudi: The 'Jewish Home' that wants more Druze
A new registration drive for Naftali Bennett's party is taking advantage of a recent change to party rules that permit its members to be secular or even gentiles; the Druze community is signing up in the hundreds; some allege that it's all a cynical attempt to refill empty party coffers.
The chairman of Bayit Yehyudi, Minister of Education Naftali Bennett, took an unusual decision a few weeks ago: Cancelling the last registration drive carried out in his party and ordering a new one to recruit members. Following that, some 77,000 members were deleted from his party list, and Bayit Yehudi began a new chapter.

The decision drew criticism, most of which was concentrated on the claim that it would be difficult to recount tens of thousands of members who were already registered. It turned out that the new registration drive attracted interest in a sector not necessarily associated with Bayit Yehudi (or "Jewish Home"): the Druze.

A senior party official reported that several hundred residents of Kisra-Sumei, Hurfeish, Beit Jaan and other Druze villages in the north had already registered. Behind the process stands Eyal Assad, 41, a resident of Kisra-Surmei, who is the chairman of the party's Druze forum.

According to him, the Druze used to register for the two largest parties, Likud and Labor, but they both failed to meet expectations. "We saw that they dismissed the Druze minority, so we found a warm home in Bayit Yehudi. Soon, I'll have 1,000 registered members."

Assad says that he's been a member of the party for three years and that he only has good things to say about it. "The cooperation with the ministers and MKs works great. They know our problems, visit us, promote bills and open new schools for us. There's a broad common denominator between us and Religious Zionism: high morals, love of the land, love of the army and the homeland—and we don't have any liberalism, either. The percentage of our enlistment to combat units is as high as in Religious Zionism."

Adding that he intends to run for a spot on the Bayit Yehudi list, Assad explained that the rules were changed to allow such a thing. "Under the previous party constitution, only religious Jews could run. Naftali changed the constitution, which permits seculars and non-Jews to run. Naftali hopes that Bayit Yehudi will be the ruling party, so he decided to add new communities."

Asked if members were required to actually pay their dues, Assad replied, "Everybody pays for himself in this registration drive. Even a father can't pay for his children. The payment is personal."

A senior party official pointed out that the membership dues had nearly doubled since the previous membership drive, which explains the real purpose of the new drive. "There's an attempt here to cover the deficit that the party has run into after wasting money of PR for Naftali," he claimed. "There's not even a website through which you can register. The new registration drive allows groups of power and workers' unions to register themselves in an organized manner so that they can influence the party from the inside. This is also what's happening with the Druze: As with employees of the Israel Electric Corporation or Egged, they also decided to enter the party to influence it from the inside."

To what extent the Druze will manage to influence the party, if at all, is not yet known, but if their dues are indeed paid, they'll at least manage to reduce the deficit.