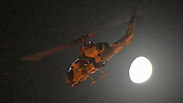 Turkish military helicopter
Turkey to take more active role on Syria in next six months, PM say
Just days after saying that Bashar Assad must step down, Turkish Prime Minister Binali Yildirim said that Turkey will be taking a more active role in the conflict in Syria; statements come after Syrian warplanes bombed Kurdish positions in Hasaka province for the first time.
ISTANBUL- Turkey will take a more active role in addressing the conflict in Syria in the next six months to prevent the war-torn country being divided along ethnic lines, Turkish Prime Minister Binali Yildirim said on Saturday.
Yildirim also told a group of reporters in Istanbul that while Syrian President Bashar al-Assad could have a role in the interim leadership, he must play no part in its future.
Syria's more than five-year conflict has taken on an ethnic dimension, with Kurdish groups carving out their own regions, and periodically battling groups from Syria's Arab majority whose priority is to overthrow Assad.
Turkey fears the strengthening of Kurdish militant groups in Syria will further embolden its own Kurdish insurgency, which flared anew following the collapse of a ceasefire between militants and the state last year.
"Turkey we will be more active in the Syria issue in the coming six months as a regional player. This means to not allow Syria to be divided on any ethnic base, for Turkey this is crucial," Yildirim said.
On Friday Syrian Kurdish authorities evacuated thousands of civilians from Kurdish areas of Hasaka following Syrian government air strikes, the Kurdish YPG militia said.
The fighting this week in Hasaka, which is divided into zones of Kurdish and Syrian government control, marks the most violent confrontation between the Kurdish YPG militia and Damascus in the civil war.
It came a week after Turkey and Russia, Assad's strongest military backer, repaired ties following Turkey's downing of a Russian jet late last year.
The YPG and Syrian government forces had mostly left each other to their own devices in the conflict, during which Kurdish groups have exploited the collapse of state control to establish autonomy across much of the country's north.
The Kurdish YPG militia is an integral part of the U.S.-backed Syrian Democratic Forces (SDF), which are at the heart of Washington's military campaign against Islamic State group and last week seized the northern town of Manbij from the militants.
Despite the intensified military involvement of world powers, including the former Cold War foes, Yildirim said he was optimistic that Iran, Gulf Arab states, Russia and the United States, could work jointly to find a solution.