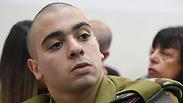 Sgt. Elor Azaria
Photo: Lior Sagi
Officers from Azaria's regiment to testify in his defense
Elor Azaria's defense team gears up for battle, issuing subpoenas for 25 witnesses, including two officers from the Kfir Brigade who were in Hebron at the time of the incident; Brig. Gen. (res.) Shmuel Zakai, who left the IDF after a public confrontation with then Chief of Staff Moshe Ya'alon, will also testify in defense of Azaria.
The trial of Sgt. Elor Azaria, who is accused of shooting an unarmed Palestinian terrorist who had already been neutralized, is due to reconvene next week. The Defense will be given a substantial boost as it plans on calling to the stand 25 witnesses. Two of them will be junior officers from the Kfir Brigade who were in Hebron on the day of the incident.

The two officers were Initially slated to testify for the prosecution, but the prosecution decided to forgo their testimonies. Azaria's team of defense lawyers, which includes Eyal Beser Glick and Ilan Katz, will try to retrieve information from their testimonies that would back Azaria's version of the events. Regarding his trial, Azaria has been quoted as saying that "The heads of the IDF and the minister of defense (referring to former minister Moshe "Bogey" Ya'alon) threw me to the dogs."

Ret. Maj. Gen. Uzi Dayan will be another witness for the Defense. Dayan served as deputy IDF chief-of-staff and head of the Israeli Central Command in the late 90s, but retired when the Second Intifada broke out.

The two officers called upon by the Defense will be the only current members of the IDF who will be testifying in Azaria's favor. They will be joined by former Gaza Division Head and ret. Brig. Gen. Shmuel Zakai, who was discharged from the army 12 years ago after then Chief-of-Staff Ya'alon accused him of leaking military information to the political echelon.

Ret. Maj. Gen. Dan Biton will also testify for Azaria. After serving as the Head of the Technology and Logistics Directorate, Biton left two years ago in response to not being promoted further. He had recently came public with his support of Azaria in Ynet's Hebrew edition.

Those close to Azaria, who is currently held under open arrest at a military base in the center of Israel, worry that the IDF will try to pressure the two officers due to testify in his defense as the dates of their testimonies approach.