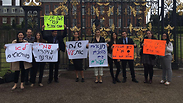 Israeli employees at 12 of the country's delegations abroad will strike on Monday to protest their salaries. The missions affected are those in Atlanta, Amman, Berlin, Boston, Houston, Los Angeles, Madrid, Miami, New York, Ottawa, San Francisco and Washington.

Those striking are the "local Israeli employees" (LIEs)—workers who have personal contracts with the government and who were recruited for specific positions, serving alongside the state's emissaries. The approximately 1,200 LIEs work both in the Ministry of Foreign Affairs (MFA) and in other ministries, including Tourism, Economy and Defense.

They are alleging economic difficulties, particularly in countries with higher cost of living. For example, an LIE in New York earns a net salary of $30,000 per year. Ministries' delegates receive higher salaries.

The various LIEs across the world began to communicate with each other some three years via WhattsApp and Facebook, according to Tal Horowitz, a member of the action committee of LIE and one of the leaders of the current fight.

After unionizing, the LIEs declared a labor dispute 2 ½ years ago and began negotiations with the Ministry of Finance. The committee's chairman, Avishai Azriel, claims that the government was interested only in excuses and not in real negotiation.

"We won't continue being modern slaves supported by the state," he exclaimed, lamenting that the long negotiations have not led to actual improvement. Azriel stated that he hoped that the strike would bring about the end to what he termed "foot dragging."

This is the LIEs' second strike, after a three-hour warning one last June in New York, Paris and London. Monday will be the first time that LIEs in the Ministry of Defense will join in on the strike with the addition of the defense mission in New York.

The MFA stated that decisions regarding the LIEs' salaries were taken by the Finance Ministry but did emphasize that LIEs did significantly contribute to the MFA's work.