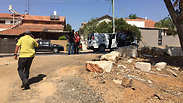 Scene of the attack
Photo: Roee Idan
A Code Red rocket alert was sounded in Sderot and Sha'ar Hanegev just before 2:30pm on Sunday. Shortly afterwards, an explosion was heard, and a rocket was found between two residential houses in Sderot. There were no injuries or damage, though forces were immediately dispatched to the area.
Site where rocket fell
In response, the Israeli Air Force attacked a Hamas military wing position in Beit Hanoun in the north Gaza Strip, and IDF tanks attacked further terrorist infrastructure. According to Palestinian sources, a 20-year-old man was lightly injured by shrapnel.
Palestinians also claimed that IDF tanks fired at a water tower in Beit Hanoun. However, the IDF has yet to confirm these reports.


Yaron, the owner of the home next to that that which was struck by the rocket recalled the incident as it unfolded: "A red alert was sounded. Obviously we all entered the bomb shelter. A big boom could be heard which was close by, " he said. "We came out and saw smoke and dust in the air. That is when we understood that it was close."
Yaron also said that one year ago, a rocket exploded on his home: "It is extremely concerning at the moment. It is getting closer again."
Hamas is evacuating all its outposts and security facilities in the Strip out of fear of further reprisals from Israeli forces. This is standard practice after rockets are fired from Gaza to Israel.
The rocket, which was fired from the north of the Gaza Strip, is the third to have been launched since the end of Operation Protective Edge and is the second to have landed in Israel in two months.