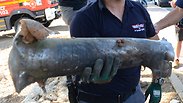 Rocket which fell in Sderot
The IDF is reported to have continued a combined air and artillery assualt on Hamas targets in Gaza Sunday night in retaliation for rockets fired from the Strip into Sderot earlier on Sunday afternoon.
According to the Palestinian report, the strikes were carried out by the Israel Air Force and Israeli artillery units on a Hamas military wing position in Beit Hanoun in the north Gaza Strip, from which the rocket was launched earlier on Sunday afternoon. The report indicates that one of the targets was a military outpost belonging to Hamas's security apparatus.
Moreover, the report claimed that a 17-year-old Palestinian boy was lightly wounded during the retaliatory attacks, along with three other children suffering from shock.
The response of the IDF signals a departure from the norm as it usually retaliates once during the hours immediately following the rocket fire or the night after. While the reports were not originally officially verified by the IDF late Sunday night, explosions were heard by residents of Israeli towns bordering the Gaza Strip. Guy, a resident of Sderot said, "There is a feeling of pressure and fear. We hope everything is going to be ok."
Later, the IDF released a statement accounting for the continued attacks: "The IDF attacks are in response to the rocket fire into Israeli territory. The rocket fire constitutes a threat to the security of Israel and a strike against the State of Israel's sovereignty," the statemen read. "The Hamas terror organization is the sovereign power in the Gaza Strip and it is therefore responsible for all terror activities emanating from it."
Tensions mounted after a Code Red rocket alert was sounded in Sderot and Sha'ar Hanegev just before 2:30pm on Sunday
Shortly afterwards, an explosion was heard, and a rocket was found between two residential houses in Sderot. There were no injuries or damage, though forces were immediately dispatched to the area.