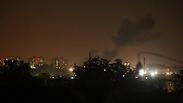 Gaza overnight
Photo: Said Kilani
Hamas's spokesman in the Gaza Strip, Sami Abu Zuhri, responded to the Israeli Air Force (IAF) retaliatory strikes by saying overnight Sunday, "The escalation is the Israeli occupation's desire to create new equations in the Gaza Strip." The IAF attacks are in response to a rocket fired from the north Gaza Strip at Sderot on Sunday afternoon.

Abu Zuhri stated further, "We hold (Israel) responsible for the escalation in the Gaza Strip and we stress that its aggression will not succeed in breaking the will of our people and dictate terms to the resistance."

The IAF strikes are noteworthy in their breadth. Normally, the IDF retaliates once, in the hours following the rocket attack or in the night afterwards.

Israeli army spokesman Lt. Col. Peter Lerner said in a statement that the military "remains committed to the stability of the region and operated in order to bring quiet to the people of southern Israel."

"When terrorists in Hamas' Gaza Strip, driven by a radical agenda based on hatred, attack people in the middle of the summer vacation, their intentions are clear—to inflict pain, cause fear and to terrorize," Lerner said.

Further statements from the IDF Spokesperson Unit stated that rocket fire at Sderot "constitutes a threat to the security of Israeli citizens and violates the sovereignty of the State of Israel…the terrorist organization Hamas is sovereign in the Gaza Strip, and it bears the responsibility for all terrorist activity emanating from there."

Sderot after rocket fell

Some reports state that one of the targets attacked by the IAF was an outpost of the national security forces belonging to Hamas. Others were outposts of Palestinian Islamic Jihad. Palestinian press has reported that a 17-year-old boy was lightly injured and three further children suffered from panic attacks.

Tensions mounted between Israel and Hamas after a Code Red rocket alert was sounded in Sderot and Sha'ar Hanegev just before 2:30pm on Sunday.

Shortly afterwards, an explosion was heard, and a rocket was found between two residential houses in Sderot. There were no injuries or damage, though forces were immediately dispatched to the area.