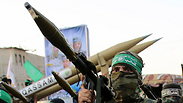 IDF hits dozens of targets in Gaza following rocket attack on Sderot
High-ranking IDF officers have announced that Hamas has suffered the most extensive blows to its infrastructure since Operation Protective Edge; the officers added that they 'will not allow Hamas to do anything it wants'; Former head of the Israeli Navy: 'We won't tolerate any rocket fire from the Strip.'
Dozens of airstrikes were carried out on Gaza late Sunday night and into early Monday morning. However, high-ranking IDF officials stressed that Israel is not interested in an escalation of violence.

"While these strikes are unusual, we have no intention to escalate," said the official, continuing "there are still 1,000 trucks full of goods slated to enter Gaza today."

Other high-ranking officials added that "the hits that Hamas took last night are the hardest they've taken in Operation Protective Edge."

"What happened yesterday was in accordance with the IDF's reaction policy in light of the violation of Israeli sovereignty," said the high-ranking officer, continuing "the targets which were hit were predetermined. We are still unaware of the results of the strikes, and we working to determine them. We will not allow Hamas to do anything it wants. We have the ability to hit terror infrastructure, and our situation is not bad at all."

A כormer Israeli Navy commander-in-chief, Maj. Gen. (res.) Eliezer Marom said "this is definitely a slightly harsher response than usual for rocket fire at Sderot. Israel is showing that 'we won't tolerate any rocket fire from the Strip. Hamas, you are currently in control of Gaza, so you are responsible for stopping all rocket fire—no one else.'"

Marom also stressed that the unusual Israeli response perfectly corresponds to Avigdor Lieberman becoming the minister of defense.

"The minister of defense is changing the game a little. It's not a dramatic change, but this series of strikes, coming in two waves, and hitting meaningful targets—as opposed to just hitting Hamas training sites which are basically just sand dunes—is in fact a change, a change which and I think is welcome and correct," Marom added.

A Code Red rocket alert was sounded in Sderot and Sha'ar Hanegev just before 2:30pm on Sunday. Shortly afterwards, an explosion was heard, and a rocket was found between two residential houses in Sderot. There were no injuries or damage, though forces were immediately dispatched to the area.

In response, the Israeli Air Force attacked a Hamas military wing position in Beit Hanoun in the north Gaza Strip, and IDF tanks attacked further terrorist infrastructure. According to Palestinian sources, a 20-year-old man was lightly injured by shrapnel.

Sderot after rocket fell

The IDF is reported to have continued a combined air and artillery assualt on Hamas targets in Gaza Sunday night in retaliation for rockets fired from the Strip into Sderot earlier on Sunday afternoon.

According to the Palestinian report, the strikes were carried out by the Israel Air Force and Israeli artillery units on a Hamas military wing position in Beit Hanoun in the north Gaza Strip, from which the rocket was launched earlier on Sunday afternoon. The report indicates that one of the targets was a military outpost belonging to Hamas's security apparatus.