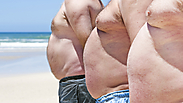 Archive photo
Photo: Shutterstock
MK Tamar Zandberg (Meretz) has proposed three bills in the Knesset that would prohibit weight-based discrimination.

Last week, the Association for Civil Rights in Israel (ACRI), having received repeated queries from overweight persons, asked the Israel Medical Association to set rules when a doctors are permitted to alert patients as to excess weight and when.

Zandberg's first bill is an amendment to the Prohibition of Discrimination in Goods or Services Law. This would prohibit, for example, refusing to grant overweight persons entry to nightclubs and discrimination in selling insurance products.

The second bill is an amendment to the Defamation Law, which expand to include degrading or excluding a person based on their weight as a cause for civil action.

Her third bill is an amendment to the Equality and Opportunity in Work Law. This would add weight to the list of items that may not be used to discriminate against potential employees, which currently includes age, religion, race and sex.

Speaking Sunday, Zandberg said, "Overweight persons are discriminated against when applying for work and are even ridiculed in advertisements and in the press. The time has come to change this situation and to extract this invalid practice from the root."

ACRI assisted in writing the bills and welcomed the Knesset's involvement in the matter.