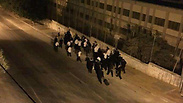 Israelis fleeing the scene
A group of Breslov Hassidim attempted to visit Joseph's Tomb in Nablus without authorization overnight Tuesday, contrary to Israeli law. A bus containing 32 was attacked with stone-throwing, and two of the Israelis were very slightly injured. In turn, different groups of Breslovers who managed to reach the holy site threw stones at Arabs there.

Their bus, which bore Palestinian license plates, did not reach the tomb, as it was stopped at the entrance to the city, where it was attacked by stones. The bus drove away, and its passengers began to flee on foot. A large force of IDF soldiers arrived at the scene to rescue the Hassidim. All the passengers were detained for questioning at the Israel Police station in Ariel, which is located in Samaria in the West Bank.

Magen David Adom (MDA) reported that at 3:43am, they received a report of a 17 year old who was injured by a stone at the scene. MDA paramedics, working jointly with an IDF medical force, treated him and transported him to Petah Tikva's Schneider Children's Medical Center of Israel.

The Judea and Samaria Division of the police reported that approximately 60 Breslovers visited Joseph's Tomb without authorization. At the site, public disturbances broke out, and the crowd threw rocks at local Arabs. IDF and police forces were called to the scene to calm the situation.

The police commented on the incident, "We view the events of tonight as extremely serious. Entries that aren't coordinated and that aren't under protection endanger both those entering and also the security forces who come to help."

The IDF Spokesperson Unit said that multiple units entered the area in response, and the Hassidim were transferred to the police for investigation. The IDF emphasized that the entrance of Israeli citizens to A areas is dangerous and against the law.