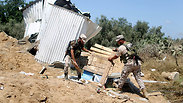 One of the IDF's targets in Gaza, after the air strikes.
Photo: AFP
The IDF conducted its most significant strike in the Gaza Strip since the conclusion of Operation Protective Edge in late August 2014. The IDF has stated that its targets in the unusually-powerful strike were related to Hamas terror infrastructure in the northern Strip. Despite the fact that neither Israel nor Hamas have officially specified the targets and their importance, the significance is probably well-understood by the leadership on both sides.

Gaza, the morning after the IDF strikes.

Israel took advantage of the opportunity it had to strike in Gaza,

following a rocket fired

from the Gaza Strip towards the southern city of Sderot on Monday afternoon. Some reports say one of the targets was an outpost of Hamas security forces, and others state Israel struck at Islamic Jihad outposts as well. Palestinian sources have reported one 17-year-old boy who was lightly wounded in the strikes.






The Israeli strikes were performed in several waves, for about two hours. They included dozens of targets. Despite the tension, sources in the Israeli defense establishment estimate that Hamas will not drag Israel into a prolonged conflict at this time. Nevertheless, the IDF remains on high alert in the Gaza border area.