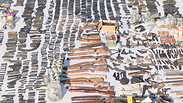 Hundreds of soldiers from five different battalions rushed in at 1:30am Tuesday morning to improvised-weapons-making facilities in the Hebron and Bethlehem areas in an operation that was run by the IDF along with the Shin Bet and Border Police.

The widespread operation of the Judea and Samaria Division was the IDF's largest in the past year against the guns and rifles in the West Bank.

Scenes from the raid (צילום : דו"צ)

The operation was accompanied by violent disturbances, but nobody was injured, and it concluded around dawn at 5am, with 22 confiscated lathes on trucks and 54 seized weapons.

Two Palestinians that the IDF claimed to be the leading owners and operators of these factories were detained for questioning. A senior officer in the division stated that these merchants, like many others in the West Bank, are not affiliated with terrorist organizations, and their activity is financially motivated.

Of the weapons seized, 39 were handguns, six were sniper rifles, four were hunting rifles, and one was an air rifle. The raid also confiscated dozens of weapons parts, some of which were made in the factories, and some of which came from Europe.




They join the 350 other weapons and 30 other lathes that have been seized since the beginning of the year in the West Bank. More than 140 persons have been arrested in that timeframe on suspicion of involvement with the sale or creation of arms. The IDF still presumes that many more such illegal weapons remain in the West Bank.



This year, more than 30 terrorist attacks have been carried out using firearms.