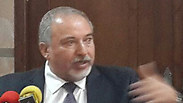 Minister of Defense Avigdor Lieberman addressed the threat from Hamas in the Gaza Strip on Tuesday morning while in the north of the country.

"It's impossible to expect the State of Israel to allow them to arm themselves, to steal money from the Gazans. They collect taxes and don't construct buildings with them, but tunnels," said the minister.

Addressing journalists, he commented, "You know my opinions, and I don't need to add anything new. What you need to understand is that my approach is rebuilding in exchange for demilitarization. That's the formula. They know that if a crisis happens, Israel will solve the problem for them, the UN will solve (the problem), the European Union. They aren't interested in solving the crisis, but in building strength."

Lieberman was visiting the Education Corp's training base, Havat HaShomer, in the Galilee. He was joined by Deputy Chief of Staff Maj. Gen. Yair Golan and Chief Education Officer Brig. Gen. Avner Paz-Tzuk.

The minister spoke at length about educating IDF soldiers. He stressed that nothing has changed in the IDF's central roles in protecting the homeland and serving as a melting pot: "Nobody has cancelled the order to be a melting pot. No multiculturalism. We've seen the result of multiculturalism in Belgium.

The condition for the existence of the Jewish people and the State of Israel is an army of the people. We won't lend any help to ideas like multiculturalism and a professional army. The IDF must remain at maximal consensus. There were disagreements about my approach and my perception, and I was shocked to see the IDF deal with controversial things. I'm talking about infiltrators.

"First of all, they came here illegally, and this is the most controversial topic in Israeli society, and it's not possible that it's what the IDF is dealing with. The IDF must remain the army of the people, and the draft for all is the basis of the army of the people."

Regarding the Education Corps, Lieberman pointed out that next year will mark the 50th anniversary of the Six-Day War. He said, "That was the State of Israel's most beautiful moment, and it's worthy of a significant expression in the education program. Suddenly, when people talk about the Six-Day War, they talk about Mahmoud Darwish and not about the victories and the liberation of the Western Wall."